From the Shelf
Take a Seat at the Writer's Desk
These three books by masters of narrative nonfiction are a godsend to aspiring writers looking for an inexpensive alternative to a costly MFA degree.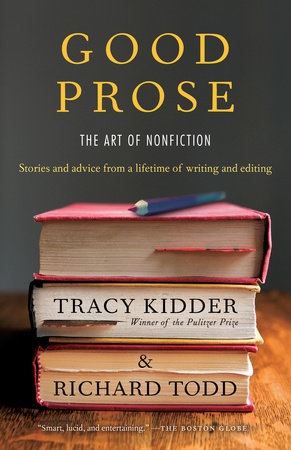 In Good Prose: The Art of Nonfiction (Random House, $17), Tracy Kidder and his longtime editor, the late Richard Todd, provide an intimate look at the painstaking process of fashioning creative nonfiction. As expected, most valuable is their chapter on being edited and editing. "You have to learn how to be edited," Kidder writes, while Todd modestly concedes that, for an editor, the "surest way to harm a piece of writing is to impose one's own style on it."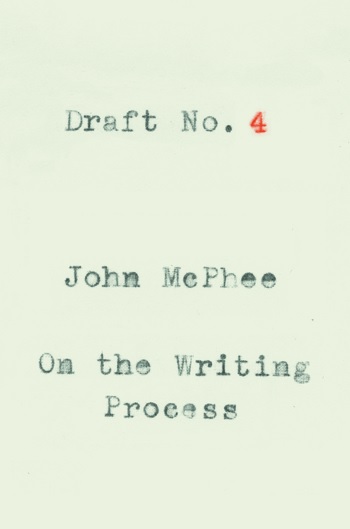 John McPhee has spent nearly six decades as a staff writer at the New Yorker, and during that time his writing has encompassed subjects as diverse as the college basketball career of Bill Bradley, oranges and geology. Part memoir, part instruction manual, Draft No. 4: On the Writing Process (Farrar, Straus and Giroux, $16) generously, and often humorously, invites readers into McPhee's creative process, with an especially useful discussion of narrative structure, something he cautions is "meant to be about as visible as someone's bones."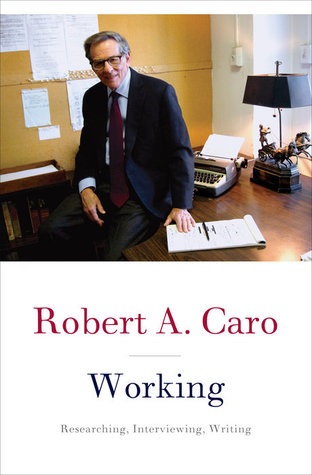 The intensely focused career of Robert A. Caro couldn't be more of a contrast with the breadth of McPhee's. Working: Researching, Interviewing, Writing (Knopf, $25) collects a series of pieces that focus on Caro's deep engagement with the lives of two men--New York City planner Robert Moses and Lyndon B. Johnson--that began in 1966 and continues to this day, as he works on the fifth volume of his epic Johnson biography. Early in his career as a journalist, an editor admonished Caro to "turn every page," and the book's insights into mining documents, as well as the art of interviewing, are especially instructive. --Harvey Freedenberg, freelance reviewer

In this Issue...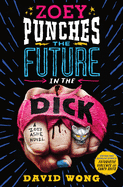 This absurdist science fiction satire will make new and established fans of the series laugh out loud.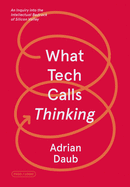 A systematic indictment of the cult of personality and mythmaking of Silicon Valley from a humanities perspective.

by Stephanie Kent , Logan Smalley
The Call Me Ishmael Phone Book connects readers to a telephone-based party line of book lovers talking about their favorite books.
Review by Subjects:
Fiction ⋅ Mystery & Thriller ⋅ Science Fiction & Fantasy ⋅ Romance ⋅ Graphic Books ⋅ Social Science ⋅ Essays & Criticism ⋅ Children's & Young Adult

Upcoming Events
Noir at the Bar L.A. - virtual edition 2
06/25/2021 - 6:00PM
Join another virtual edition of Noir at the Bar L.A. with host Eric Beetner (Palm Springs Noir contributor), and readings from Tracy Clark (Runner), Andrew Graff (Raft of Stars), Kris Calvin (All that Fall), Cate Holahan (Her Three Lives), Stephen Mack Jones (Dead of Winter), and Tori Eldridge (The Ninja's Blade). Free of charge. All are welcome! Starts at 6:00 PM Pacific Register here!
An Afternoon of Regency Romance
06/26/2021 - 2:00PM
Romance readers are invited to partake in a delightful afternoon of romance, featuring five stellar Regency Romance authors in conversation with We Are Bookish, NetGalley's member resource, Executive Editor Kelly Gallucci. Join Bethany Bennett (West End Earl), Christina Britton (A Duke Worth Fighting For), Amalie Howard (The Princess Stakes), Samara Parish (How to Survive a Scandal), and Kate Pembrooke (Not the Kind of Earl You Marry), in a virtual event celebrating all the...
ONE TWO THREE with Laurie Frankel and Amy Einhorn
06/29/2021 - 5:30PM
Please join us on June 29, 2021 at 5:30pm PT when the author, Laurie Frankel, and her publisher, Amy Einhorn, discuss Indies Next pick, One Two Three. Register Today! Specially designed bookplates are available with your purchase of One Two Three from Creating Conversations. From Laurie Frankel, the New York Times bestselling author of This Is How It Always Is, a Reese's Book Club pick, comes a timely, topical novel about love and family that will make you laugh and cry......
Book Candy
Speaking English, American Style
"Mapping the differences in how Americans speak English: a geographic look at words, accents & dialects." (via Open Culture)
---
"A reader that never sleeps: 9 thrillers set in New York." (via the New York Public Library)
---
Lit Hub asked: "Where do reading lists come from? (And why do we love them?)."
---
Readers can watch LOA LIVE, online programs inspired by Library of America publications.
---
Atlas Obscura examined "53 letters deciphered by a groundbreaking English Codebreaker."

All Because You Matter
by Tami Charles , illust. by Bryan Collier
Tami Charles, author of picture books Freedom Soup (illus. by Jacqueline Alcántara) and Fearless Mary (illus. by Clair Almon), collaborates on her third picture book, All Because You Matter, with Coretta Scott King Illustrator Award winner and four-time Caldecott Honoree Bryan Collier. A story that identifies the importance of our ancestors as well as our present and future selves, All Because You Matter tackles topics such as bullying, racial profiling and the discovery of one's identity. Charles's graceful text and Collier's evocative illustrations work together to make conversations about these topics easier to have with children.
All Because You Matter begins with a Black couple awaiting the birth of their child. They lovingly place their hands on the mother's belly: "They say that matter is all things that make up the universe: energy, stars, space.... If that's the case, then you, dear child, matter." Long before this child's birth, his ancestors dreamed of him "like a knapsack full of wishes, carried on [their] backs as they created empires, pyramids, legacies." In Collier's vibrant collage and watercolor illustrations, parts of the ancestor's faces--an eye, a mouth--can be viewed. While the individuals featured are a mystery, it is easily understood that what they have dreamed of, fought for and built was all in service of the child who is about to be born.
A shooting star announces the child's birth, and the page turn shows his first steps, happiness on his mother's face as she watches her son accomplish this feat. She smiles with arms outstretched, watching her "hobbling, wobbling, toppling" son. The mother and child share other firsts together, including his first words and the first time she reads him a story that has characters with the "same hair, same skin, same dreams" as him: "a mirror staring back at you," she calls it. As the mother and son read together, they are transported to faraway places; she continues to read books that feature characters like him to show him that "he matters."
When the child goes to school, he notices his classmates snickering when they hear his name because they think it is difficult to pronounce. In the classroom, a Muslim girl wearing a hijab is the focal point of the illustration, a solemn look on her face. This central image puts the boy in the background, showing that Charles's words go out to all Black children. As the boy grows, he experiences life's standard hardships. He fails a test and questions his worth. An aerial view shows the child slumped at his desk, head in hands, red x's on the paper in front of him. The perspective highlights his smallness, the ridges of his spine, depicting vulnerability. "You'll see a letter, big, bold, red on the page, and you will question if you, your work, and your effort matter."
When the child spends time with Pop Pop, he notices the injustices in the world. The videos on TV are of people taking a stand, taking a knee, marching and protesting for the rights of people that look just like him. With eyes closed, a collage of people protesting in the background, he hears "Pop Pop's whispered prayers, as another name is called: Trayvon, Tamir, Philando, and you wonder if they, or you, will ever matter." With the next page turn, the collage of ancestors returns behind a portrait of the boy, partial faces of men and women in hues of blue, yellow, green and red--a reminder that this child was thought of and prayed for long ago.
Charles's lyrical text describes the emotional relationship of BIPOC parents to their children: the hopes, the dreams, the fears, the realities. The list of names of innocent Black people killed through police violence shows not only a parent's fear and anger but also a child's understanding--they are thinking about who they are, and wondering if their lives have meaning. Charles's repeated calls to the ancestors and use of the word "matter" drive home the idea that Black children are born with purpose and hope--even when children make mistakes, their lives still matter. Collier's signature watercolor and collage images use white (but most certainly not blank) space powerfully, leaving room for Charles's text while still allowing for numerous double-page spread illustrations. His realistic drawing of the young boy--with big brown eyes and skin, long eyelashes and a fade haircut--makes the child come alive. Throughout, Collier uses a single flower petal shape "to build a blossoming effect in all backgrounds." This serves as a reminder that the lives of BIPOC children and their ancestors are not a mistake--those who have been born and lived before us both rooted for successive generations and also root us in time, history and family. Collier even directly connects the child in this book to his ancestor David Drake by focusing a double-page spread on Black hands in much the same manner as he did in his Caldecott-honored Dave the Potter. Like a garden, the ancestors bloom around the boy, shouting "you matter." --Kharissa Kenner
Orchard Books, $17.99, hardcover, 40p., ages 4-8, 9781338574852
---
Tami Charles and Bryan Charles: A Gift for Those Who Come After Us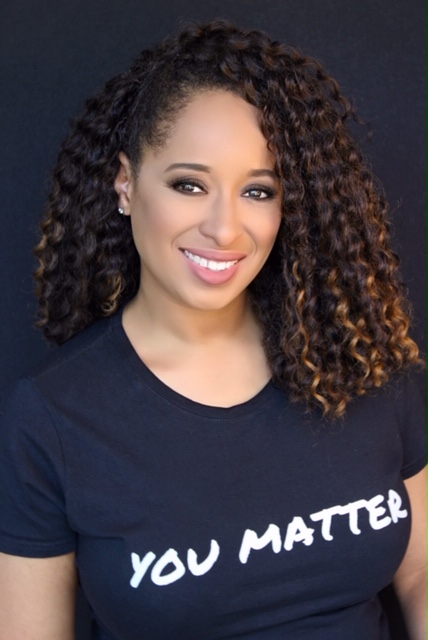 (photo: Krisann Binett)
Author Tami Charles is a former teacher. Her love for writing was sparked when she noticed a need for more diverse books. Her books include the middle-grade novel Like Vanessa and the picture book Freedom Soup. Shelf Awareness spoke with Charles about writing for her son, her purpose in the world and the message she hopes to spread with All Because You Matter (available October 6 from Orchard Books).
How did the story of All Because You Matter come about?
This story was born from love and a deep desire to keep my son, Christopher, little forever, which I think most parents can relate to! I wanted to keep him shielded from the cruelties of the world. But as he grew older and had questions about injustices against people of color, I needed to do something. What better way than to write Christopher a love letter to remind him of all the reasons why he matters to me, and to the world?
I took all of the words I had bottled up during the years of watching him grow, and I put them into a poem. The words for All Because You Matter came to me in a dream, and the art is masterfully done by Bryan Collier.
My son and I have used All Because You Matter as a springboard for many productive, yet sometimes uncomfortable conversations. As his mom, it's my job to nourish Christopher's curiosity. Writing this book has given him permission to put it on full display. It is my hope that it does the same for all families.
Your son is the model for the young boy in the story.
All Because You Matter is as much Christopher's book as it is mine and Bryan's. So you can imagine his delight when he received an invitation from Bryan to do a photo shoot for the book. That was worth missing a day of school! Christopher's image on the cover and throughout the entire story is a gift to our family. This kid will have bragging rights for years to come!
Like the young boy in the story, have you ever questioned your own existence in the world?
I'm a full-grown adult, and I still sometimes question my place in the world. For those reasons, I strongly feel that this is a book for everyone, with a message that we all need to hear. We matter. Children matter, especially.
For the times when my confidence has slipped and I questioned my purpose, I was instantly reminded of it when I would see my son thrive in school, or when I saw my book in young readers' hands and the joy it sparked on their faces. We all have a gift to leave those who will come after us--something to remind us of the very reason why we exist. This book will be my offering.
There are words of other languages in the story such as "barrios" and "Mahal kita." What is the significance of the use of those languages?
Oh, trust me, I wanted to use even more world languages in the text! Picture book word counts can be restrictive, alas. I'm a lover of languages, culture and travel. I also come from a multicultural family. Seeing different parts of the world has truly opened my eyes to the fullness of what it means to be human, but particularly, a person of color. Diversity is a beautiful thing and I aim to show that in my work because it represents who I am and the family and friends I surround myself with.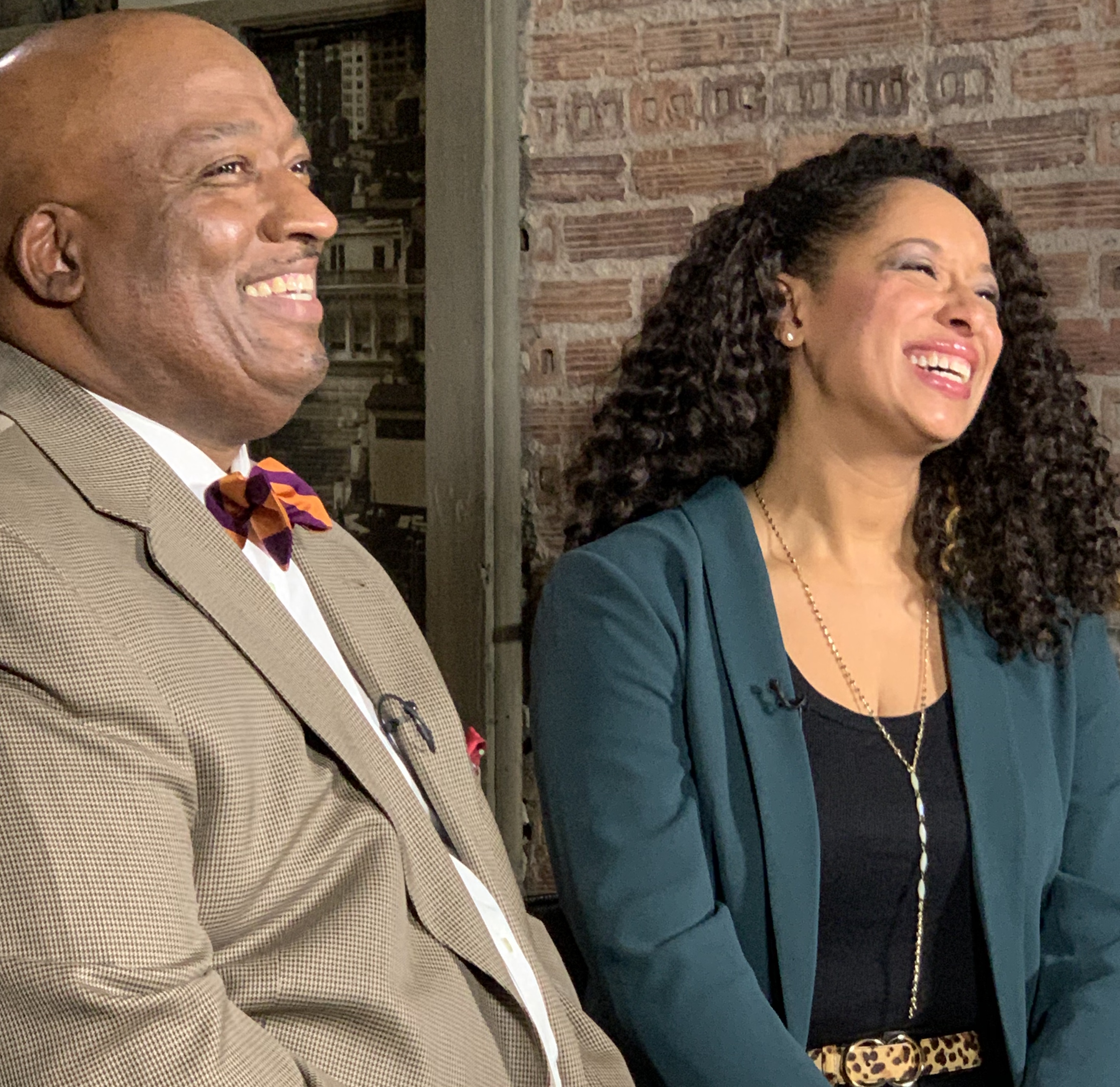 Bryan Collier and Tami Charles
In All Because You Matter, my hope is to honor children of color and the diverse backgrounds from which they come. The phrase "Mahal kita" (meaning "I love you" in Tagalog) is from the Philippines. To my ear, the words literally sound like love. "Barrio" and "montañas" are Spanish for "neighborhood" and "mountains," each word representing beauty and strength.
I use multiple languages in this text to show that BIPOC are not a monolith. We are multi-dialectal, multifaceted, a full-spectrum rainbow of experiences and talents to share with the world.
What is the message you hope adults and children will receive from reading All Because You Matter?
My first hope is that when readers are done with the book, they are compelled to turn back to the first page. Read it again. Find something new. A hidden gem in the art? A stanza that resonates with you? Think deeply about how the message applies to your life, no matter your race or background. Is it a love letter that you wish to share with someone special in your life? Is it a call-to-action that maybe you, as a teacher/adult/ally, want to use to spark deep, healthy conversation about race? Whatever feeling this book leaves you with, share it with others. Spread the message widely to those who need it most. --Kharissa Kenner
---
Bryan Collier: The Power of Art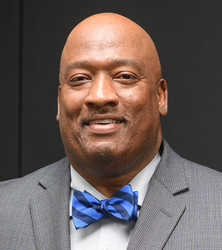 Bryan Collier is the author of Uptown, winner of the 2001 Coretta Scott King Illustration Award and 2001 Ezra Jack Keats Award for New Illustrator and the Marion Vannett Ridgeway Award for a first-time author and illustrator. Collier also received a 2002 Caldecott Honor for Martin's Big Words by Doreen Rappaport. Originally from rural Maryland, Collier now calls Harlem home. His love for art led him not only to a career as an author and illustrator but also as a director for Harlem Horizon Art Studio, an art program designed for young people based out of Harlem Hospital. Shelf Awareness spoke with Collier about the practical and metaphorical aspects of creating All Because You Matter by Tami Charles, available October 6 from Orchard Books.
How did you and author Tami Charles work together on this book?
After a few initial meetings, I knew I wanted Tami and her son to be the stars of this project, so we got together and did a photo shoot in a library.
Why did you choose to use watercolor and collage for this project?
I like watercolor and collage as a medium because collage itself is a metaphor for taking fragments or separate moments and constructing or piecing them together to create something whole or complete.
The use of partial faces as representation for the ancestors is profound. How did you come up with that idea?
The faces or voices represent our present selves, as well as ancestors. This serves as a reminder that we never walk into a room alone, they all come with us.
The fade on the young boy stands out. Is there a reason why you chose that hairstyle?
That high-top fade brought back some memories. But it was what Christian was sporting, so he and Tami get the credit for that great look.
Why is All Because You Matter an essential story?
All Because You Matter is literally happening right outside our windows and has been happening for years. This book speaks to injustice, police brutality, equality--all those difficult yet necessary conversations that we must have with our children to remind them that they are important. We are important. --Kharissa Kenner
---
Shelf vetted, publisher supported.

Book Reviews
Fiction
Morrow, $27.99, hardcover, 640p., 9780062942852
Putnam, $17, paperback, 416p., 9780525537885
Soft Skull Press, $16.95, paperback, 288p., 9781593766900
Mystery & Thriller
Gallery/Scout Press, $27, hardcover, 352p., 9781982132026
Science Fiction & Fantasy

St. Martin's Press, $27.99, hardcover, 368p., 9781250195791
Tor, $26.99, hardcover, 384p., 9781250757531
Romance
Berkley, $16, paperback, 352p., 9780593102503
Graphic Books
Algonquin, $24.95, hardcover, 288p., 9781616209032
Social Science

FSG Originals, $15, paperback, 160p., 9780374538644
Essays & Criticism

Avid Reader Press, $20, paperback, 224p., 9781982140588
Children's & Young Adult
Candlewick/Walker Books, $17.99, hardcover, 304p., ages 8-12, 9781536209563
Chronicle, $17.99, hardcover, 56p., ages 5-8, 9781452181547
Princeton Architectural Press, $17.95, hardcover, 40p., ages 4-8, 9781616899455
---